WORKING METHODOLOGY 
We take care of material selection and purchase, handling of production samples, selection of the most appropriate internal and external packaging, logo printing and quality control of final production. Before final products are sent to be internationally transported we prepare a detail report about the product.
The minimal manufacturing quantity of tailored products can vary from 300 to 500 pieces of clothes per color and 1000 pieces per style. Manufacturing quantity always depends on the complexity of the final products. As a thumb rule the more complicated the garment is the higher the minimum required quantity to start manufacture. These numbers are generally based on material rolls consumption during the manufacturing process and labour hours needed to finish the product. In case you like and choose one of our designs (see the catalog) the minimum quantity could be low, even as low as a hundred pcs if we are manufacturing the product at the moment of have available stock. Please consult us case by case making reference to the product code in the catalogue.
All garment design that we show in our catalog could be redesigned and changed exactly according to your requirements. You can opt to change a material, color, zipper style, accessories and other parts.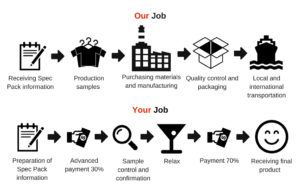 The most common kind of cooperation is that you provide us with technical details (Spec Pack) of the clothes you wish to manufacture. Another alternative is that you have a production sample available that you can send us. You can also choose any design in our catalog or showroom.
The most common incoterm we use is FOB with landing port closest to the factory we use. We are constantly moving according to our customers and their products that are manufactured in different parts of China.
Any Pantone TPX color could be used. There are also a few color cards in our showroom that could be used for different products. These are usually common colors that the factory has in stock during the whole years or colors that are expected to be popular for next season.
You can choose any size curve you want. The most common is the one with size range from S to XL using the rate 1-2-2-1 or from S to XXL with rate 1-2-3-2-1.
Common form of payment is 30% advanced payment and 70% at the moment that good are ready to be internationally shipped out. We always elaborate a detail report about the final result of manufacturing with plenty of visual material. We also take one sample from each size to be sent by air so that you can start selling the goods before your cargo arrives by sea. This way you can rest assure that your money are invested in goods fabricated according to your requirements.
Average manufacturing time is about 45 days depending of course on the complexity of the final product. For example product that requires YKK zippers can add even up to 15 days to normal production time. Our designs could be produced faster as the factory does not need to elaborate complicated production samples.
Manufacture garment and reduce costs was never easier!
Count on us!