Generic down jackets manufacturing with deadline in the middle of January 2017. 
At the end of October we accepted an order of 1800 down jackets for an Argentinian customer without any brand only with generic hangtags. This way the customer can print or add any brand once the jackets are imported to Argentina or keep them generic the way they are. The customer can sell these jackets to final customer or to wholesalers.
Order: 1800 down jackets (90% down 10% feather) according to men jacket style in our catalogue  #P-9065 and women jacket style #P-9015 with some minor modifications and YKK zippers. The customer chose one women style and one men style down jacket each of them in three different colors (Woman: marine blue, black and pink / Men: marine blue, black and wine red).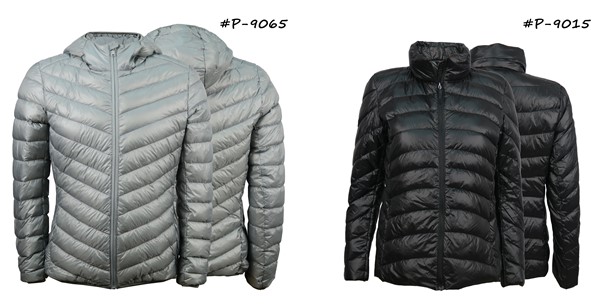 Accessories: invisible pocket zipper in the same color as the jacket, 3-pieces hangtags with printings from both sides, small textile bag used to comfortably pack the jacket.

Material: 90% down, 10% feather, nylon ripstop, YKK zippers
Customer's  requirement were to manufacture light weighted jacket that might be easily packed into the small bag and that can be used during Argentinian cold winters and chilly summer nights. 90% down jackets maintain body temperature when it goes down but thanks to jacket breathable characteristic it will never make you sweat. The customer wanted casual style jackets with elegant hint that's why he chose classic colors and invisible elastic termination in case of women jacket.
Customer required 15% increase of jacket padding in comparison with the original samples we have in our Buenos Aires showroom.  On the picture below you can see the final product without hangtags in all there color variations.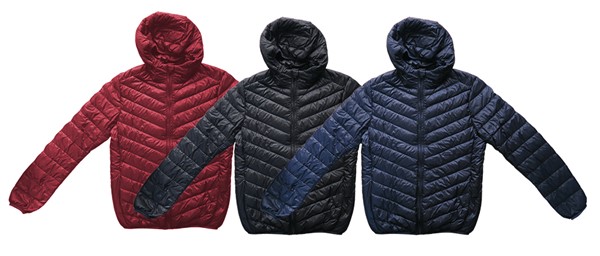 The slight difference between marine blue color of women and men jackets is caused by different lighting conditions when pictures were took. Colors were chosen according to color sample cards we have in our Buenos Aires showroom (that are connected with specific Panton TPX number).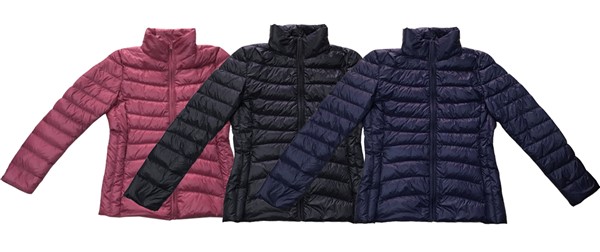 Argentinian customer asked us to help him elaborate marketing material that would help him to promote purchased products. We add a few samples of that marketing material.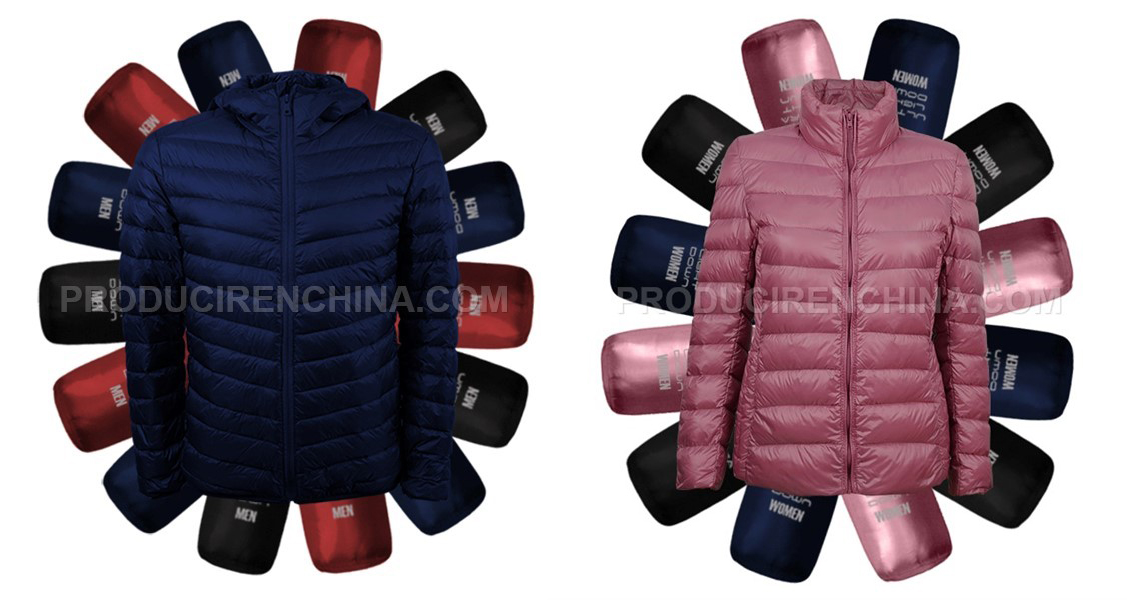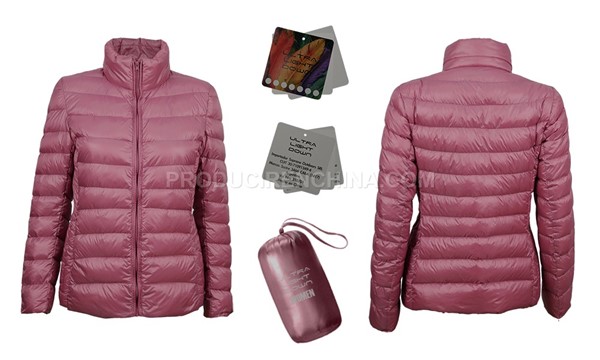 On below photos you can observe Chinese factory manufacturing this order.

Would you like to add down jackets to your next collection? Would you like to manufacture your brand clothes in China? Would you like us to become your clothes supplier? Do not hesitate to get in touch with us!